11 last minute Father's Day gift ideas
You still have time to find a gift for Father's Day that does not look last-minute. Here are different options for all kinds of budgets, personalities and tastes.
1. Waterproof Sony Sports MP3 player
For the sports fan, especially if he likes swimming or biking, this music player is simply spectacular. It is waterproof, the battery lasts 8 hours, is compatible with PC and Macs and is totally wireless. It comes in 4GB and 8GB versions. There are several deals available now at the Sony store from $ 89.99 to $ 129.99.
2. Hero3 + Silver Edition GoPro Action Camcorder
GoPro Camera hero3 + Silver Edition is 15 percent smaller than previous models but is twice powerful. Waterproof is 131 feet and captures quality video with resolution up to 1080p and 10-megapixel photos. Bring WiFi, and a battery that lasts 30% longer. This version sells for $ 299 at Walmart.
3. Samsung Galaxy S5 and Gear Fit
Samsung smartphones offers different models but the S5 is a true standout. It's lightweight, water resistant, has tremendous power and speed, plus an amazing camera. If you want complete integration, the Samsung Gear Fit is the first curved, SuperAMOLED wearable device for active lifestyles. You can monitor your heart rate, sync it to your Samsung smartphone and is also waterproof. Find it for $199 at Walmart.
4. Speakers or wireless speakers
If Dad enjoys listening to music at all times, there are many Bluetooth speakers or portable speakers available on the market. The Skullcandy Air Raid ($149.99) Bluetooth speaker plays music wirelessly from any computer with Bluetooth to a distance of 33 feet, is resistant to falls and water, and is can go with dad anywhere he goes. The Portable Bluetooth Speaker  JBL Pulse ($199.99)) has LED lights that sync up to the music. Sony also has different options such as the SRS-X5 ($ 169), which provides high fidelity and also has a rechargeable battery that lasts about 8 hours. It weighs just over 2 lbs!
5. Accessories for soccer and baseball fans
Give Dad a chance to share their passion for soccer and the FIFA World Cup by supporting his favorite team in a fun way.  There are great cases for the Samsung Galaxy S4 at about ($ 19.99) showing the team colors for Mexico, the U.S. and Spain.
If Dad prefers baseball, RadioShack also has Otterbox cases for several teams that fit the Samsung Galaxy S4 ($ 19.99).
6. Gifts for the uberconnected
Give Dad the chance to be connected at all times with the new slim design portable charger Power Bank RadioShack. It is light enough to carry everywhere and recharge batteries of devices like cell phones and tablets. It is available in three versions: the 1250mAh ($ 19.99) with up to 3 hours of talk time, the 4000mAh ($ 39.99) with up to 11 hours of talk time and energy saving mode and finally the 6000mAh ($ 49.99), with up to 17 hours of talk time and it automatically turns off when not in use.
7. Ideas for television fans
If Dad likes to relax watching his favorite shows or movies, he'll love theGoogle Chromecast ($ 35.00). This small device connects to the TV and works through a simple app that can stream shows, movies, music and more from your cell phone, tablet or laptop. Another excellent option is the Apple TV for $99. Or you can give him a subscription to Netflix; basic plans start at $7.99 a month.
8. Devices to control all his electronics
For dads who enjoy controlling everything with just the touch of a button, the Belkin® WeMo Switch/Wireless Home Actuator ($ 49.99) is the solution. It works with the WeMo app so you can turn electronics on or off from anywhere. A lamp, a fan, a heater, curling iron, stereo, you name it. If you can plug it in, you can control it with WeMo.
9. Keep him organized
If dad likes to keep everything nice and tidy, give him a hand with the new Quirky products available at RadioShack. The Quirky Cable Organizer Cordies ($ 4.99) keeps cables tidy on the desk and the Cordies Quirky Executive ($ 14.99) also keeps cords organized and has a slot for smartphones. The Quirky Contort ($ 24.99) which is an angular power adapter that includes two USB ports and an integrated cord organizer.
10. Dads who want to look good
Dads are taking care of their skin and health more than ever. Make a gift basket with products specially formulated for men, such as the Neutrogena Men line, which has a after shave lotion for sensitive skin for $ 6.99. Also, Dove Men + Care has a great line, from face and body washes to facial care products. It also offers a terrific exfoliator tool for the back, face and body.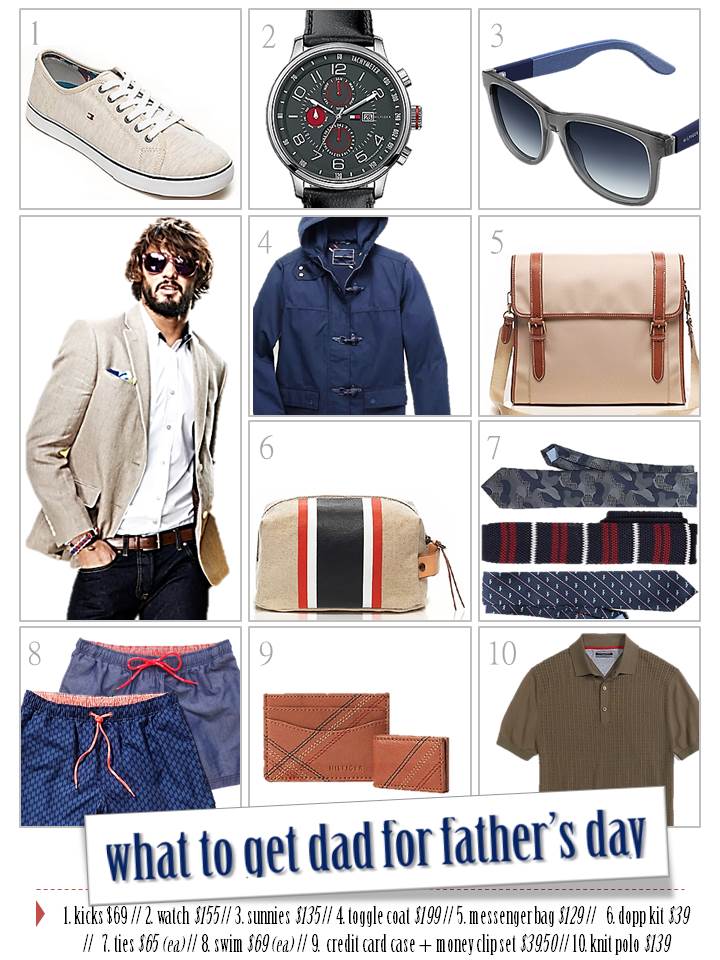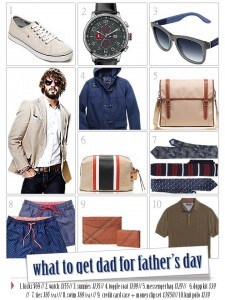 11. Stylish dads
For dads that always want to look sharp, even on the weekends or when they're relaxing, Tommy Hilfiger has great options,  from sunglasses to kicks and a messenger bag to swimwear.
Mira esta guía de regalos en español