What You Should Know If Your Child Gets Covid-19 In College
"Ma, I'm positive."
My heart skipped a beat when I heard the words I dreaded ever since I dropped my son off at college.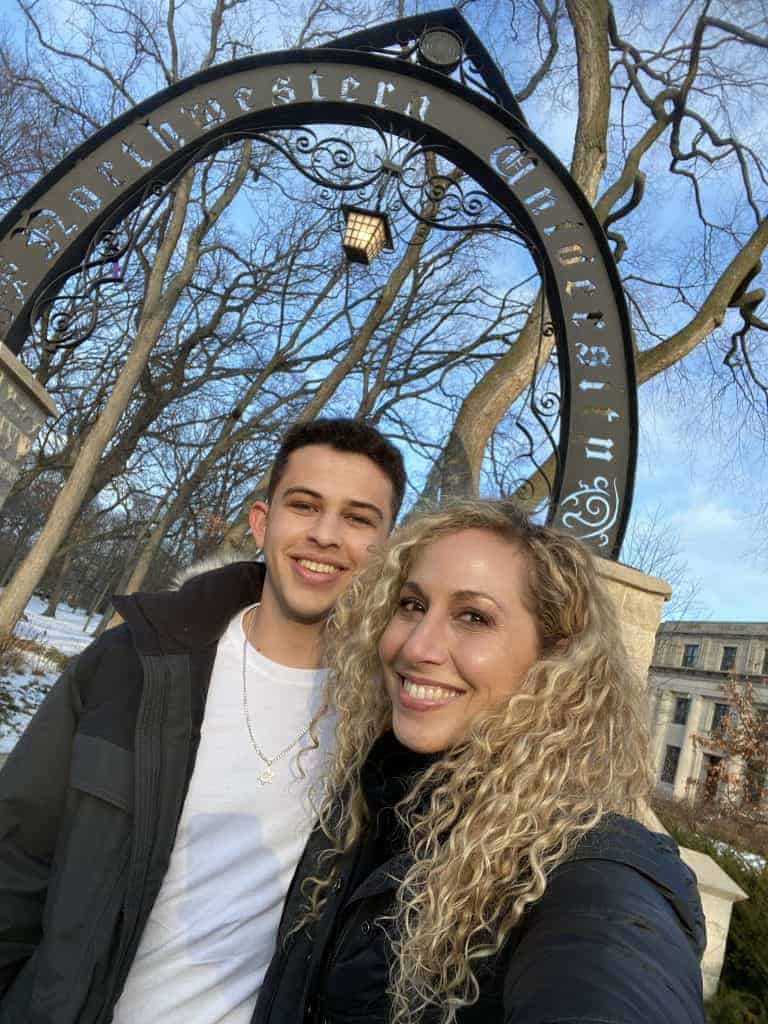 Then I went into emergency mode. My mind started racing, trying to think about what would happen next. How I could help my son. Praying he would be okay.
He had just been home. I thought he was fine. I had been worried in late March once all his friends came down with Covid-19 and he had cold-like symptoms. All his PCRs came back negative. Negative for Strep and Influenza. No fever. Never lost his appetite or sense of smell. He was isolated in his room just to be safe and after his seventh negative test, we relaxed.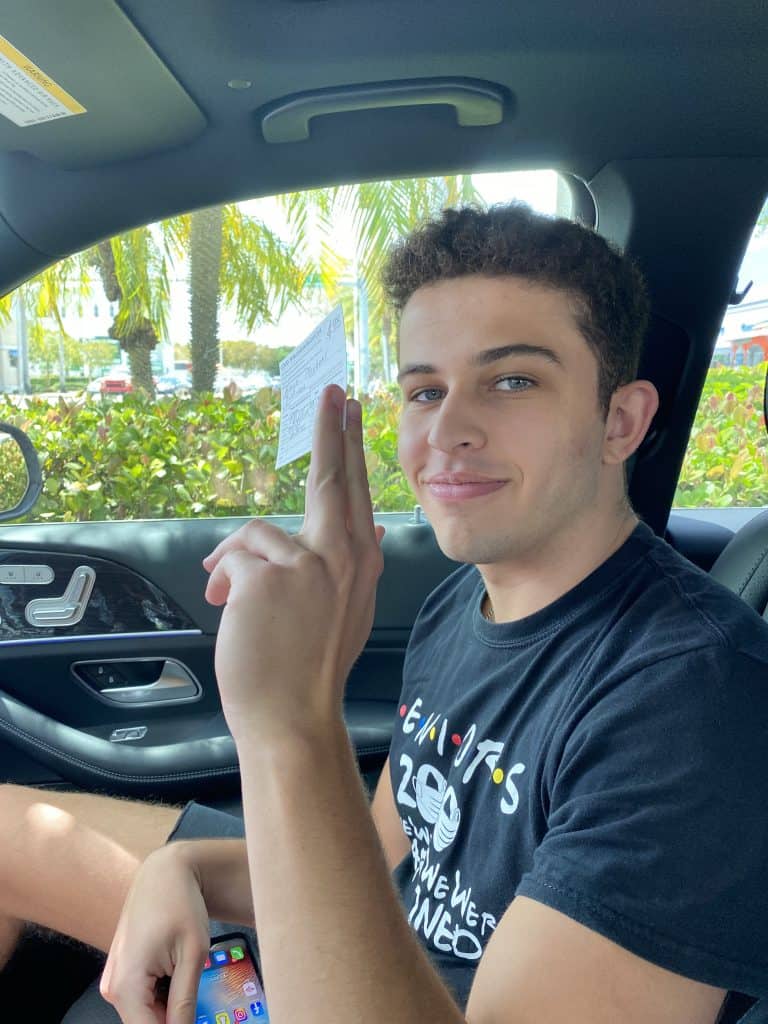 I even drove him to his second vaccine appointment. Unmasked. He saw his (vaccinated) grandparents before heading back to Evanston. He also spent time with his (unvaccinated) sister and it was lovely to see them laughing together. I took a mental photograph… and that image haunted me after my son's call.
I worried for him. Worried for my daughter. Worried for all of us, even if we were vaccinated.
So I started doing what I do best when anxiety starts to creep up: I started doing whatever I could to help my son. He had an hour and a half to get his stuff ready to move into the isolation dorm, so we reviewed what he should take.
The Latina Jewish mom in me worried he would be hungry, so I ordered Postmates to deliver non-perishable snacks. There was no time for Instacart.
I worried that he got his second vaccine while he was battling the coronavirus. Quick internet research calmed me down. And if you're wondering whether the vaccine can make you test positive, that's a myth debunked by the CDC.
I could hear my son's anxiety, too. So I self-assigned myself the role of Chief Emotional Supporter. Even if I couldn't be by his side taking care of him, I would use everything I have to be with him virtually.
That also meant I hid my worries from him. Since I didn't want to stress anybody out, I cried in the car later that day. That night and every night that followed, I prayed extra hard for his health.
What To Expect When Your Child Is Isolated In College
Each college has its own rules, procedures and protocols, especially regarding COVID-19. At Northwestern University, where my son is a freshman, if you are using on-campus housing, they assign you to an isolation dorm. There they provide you with basic towels, sheets, snacks, bottled water and meals.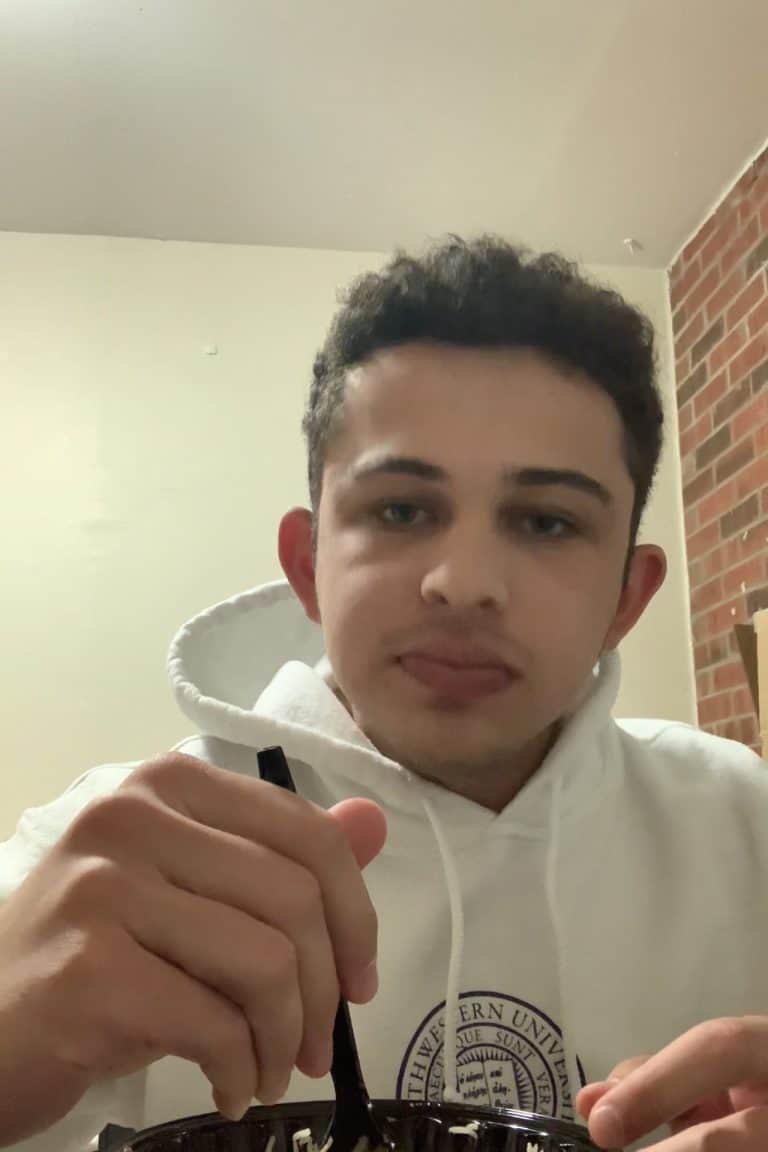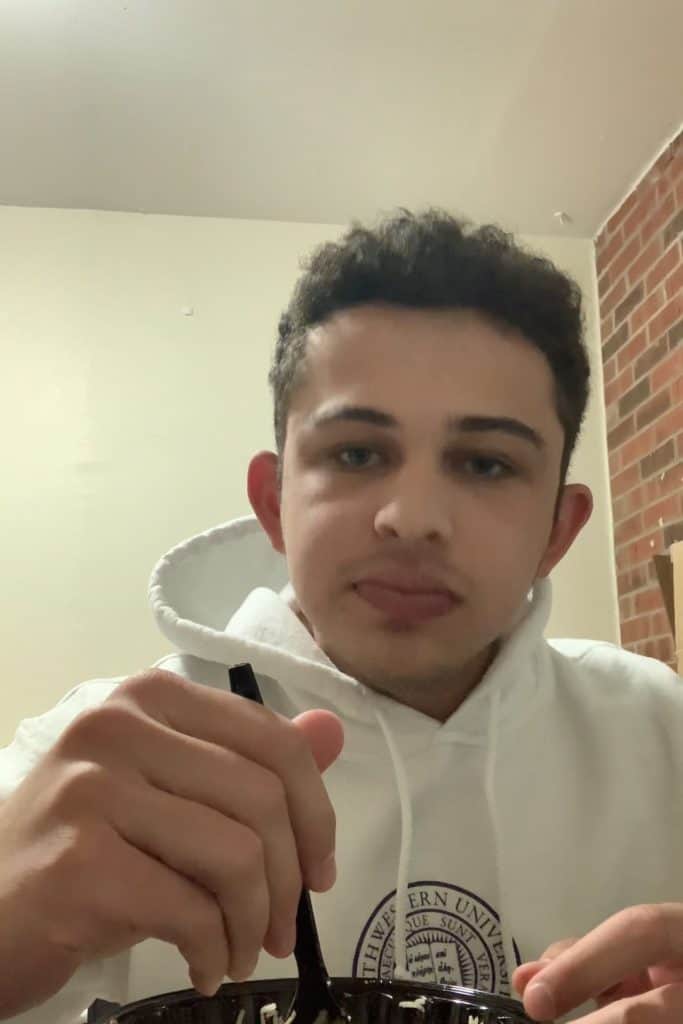 I must confess that my son's meals were so much better than we expected and even though he has a bottomless appetite these days, he never went hungry. He even indulged in Ben & Jerry's ice cream and chocolate chip cookies on request, which gave him something to look forward to.
The room was good, too. He had the requisite twin XL college dorm bed with a desk and chair. What I didn't know is that he would have a small mini fridge and also had access to a communal microwave in the lounge.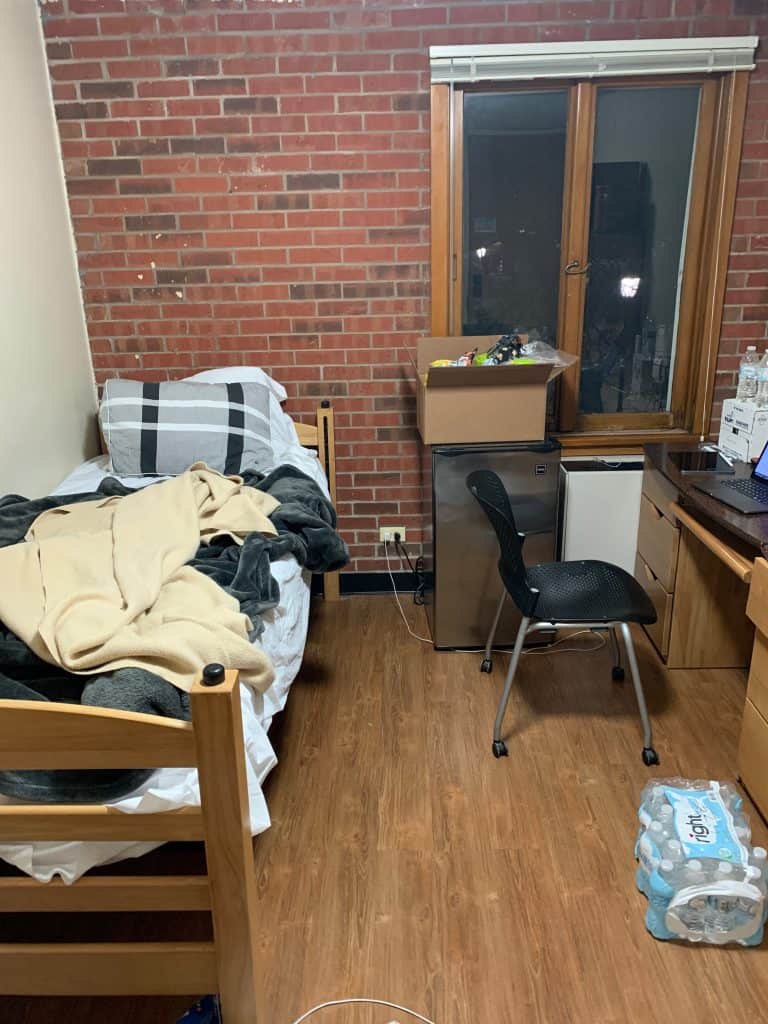 What was extremely difficult was the self-isolation. That's why technology becomes your ally during the 10 day isolation period. Video calls were essential to keeping my son connected to the outside world. He requested to join our nightly family dinners so he could "eat with us" and each morning he would Facetime me once he woke up. This also allowed me to monitor his well-being. Seeing your child's face can help you read their body language and even see whether they look pale or dehydrated.
Each day a member of the COVID response team would check in with my son via phone. If he would have felt very ill, he would have had to request permission to go to the health center. As a parent, I would have preferred at least one in person check in. My son had a very mild case of the virus, but I can't help but wonder what if a student is so ill they become dehydrated or think they are okay but are not saturating well. I know other schools do have nurses check in on a daily basis in person, so it varies.
Silver linings
Not all was bad. During my son's self-isolation, we grew even closer. I had never Facetimed my son so much! Since I have so much live TV experience, whenever he was bored I would narrate what was going on at home and show him what our dog was up to, how his sister did homework or what I was working on. I got used to our morning routine and now it went back to normal, so I miss starting the day with my son's Facetime call.
The greatest silver lining for me was seeing how my son's perspective changed. I felt he matured so much in those 10 days. He appreciated friendships, relationships and everyday details so much more. His roommate's "visit", in which he waved to him from below his window cheered him up tremendously, as did the Rabbi's Friday food deliveries.
I do wish COVID would just go away and spare everybody. I am beyond thankful my son only had a mild case, but we have friends and family who haven't been so fortunate. Just a few weeks ago, my father lost one of his closest friends, and an aunt is fighting for her life in Chile as I write this.
Did the vaccine help my son? Honestly, I think it did. Even though it didn't have enough time to work, I do believe it helped him avoid more serious complications.
I hope that by sharing our experiences, it can help appease some of the fears other parents might have once they learn their child is positive with the coronavirus. It's scary and not know what to expect makes it even more overwhelming when you can't be at your child's side.
What to do if your child gets covid in college
Unfortunately, the virus is still a threat. Here are a few tips if your college student gets COVID-19 while living on campus:
Ask your child to forward you any information the school sends them regarding protocols and isolation procedures.

Since they most likely will have to pack their bags in a hurry, that way you can read everything in detail and point it out to the student.

Know who to call in case of an emergency.

My son's school shared a phone number and email to call in the email they sent him. Since he is an adult, that was not shared directly with me, but the information is available on the university's website.

Remind your child what they will need. Since they will be rushed, it's easy to forget or overlook even the basics.

From pillows to a comforter or blanket, chargers, toiletries, medications and their first aid kit, if they have one. When I dropped off my son in January, I made sure his kit included acetaminophen, a thermometer, an oximeter, and other over the counter medications. This really helped him self-monitor his health during isolation. My son regretted not taking his comforter and sheets.

Create a sense of structure.

Having a daily routine helped my son tremendously. It doesn't have to be a strict one. Even having daily virtual chess games with other family members gave my son something to look forward to.

Use video calls to provide daily human connection.

You can even make them fun by sharing everyday moments, like meals or your pet's shenanigans.

Keep calm but stay on top of your child's health.

I trusted my son to alert his case coordinators if he felt his condition worsened, but I was always alert in case I needed to advocate for him.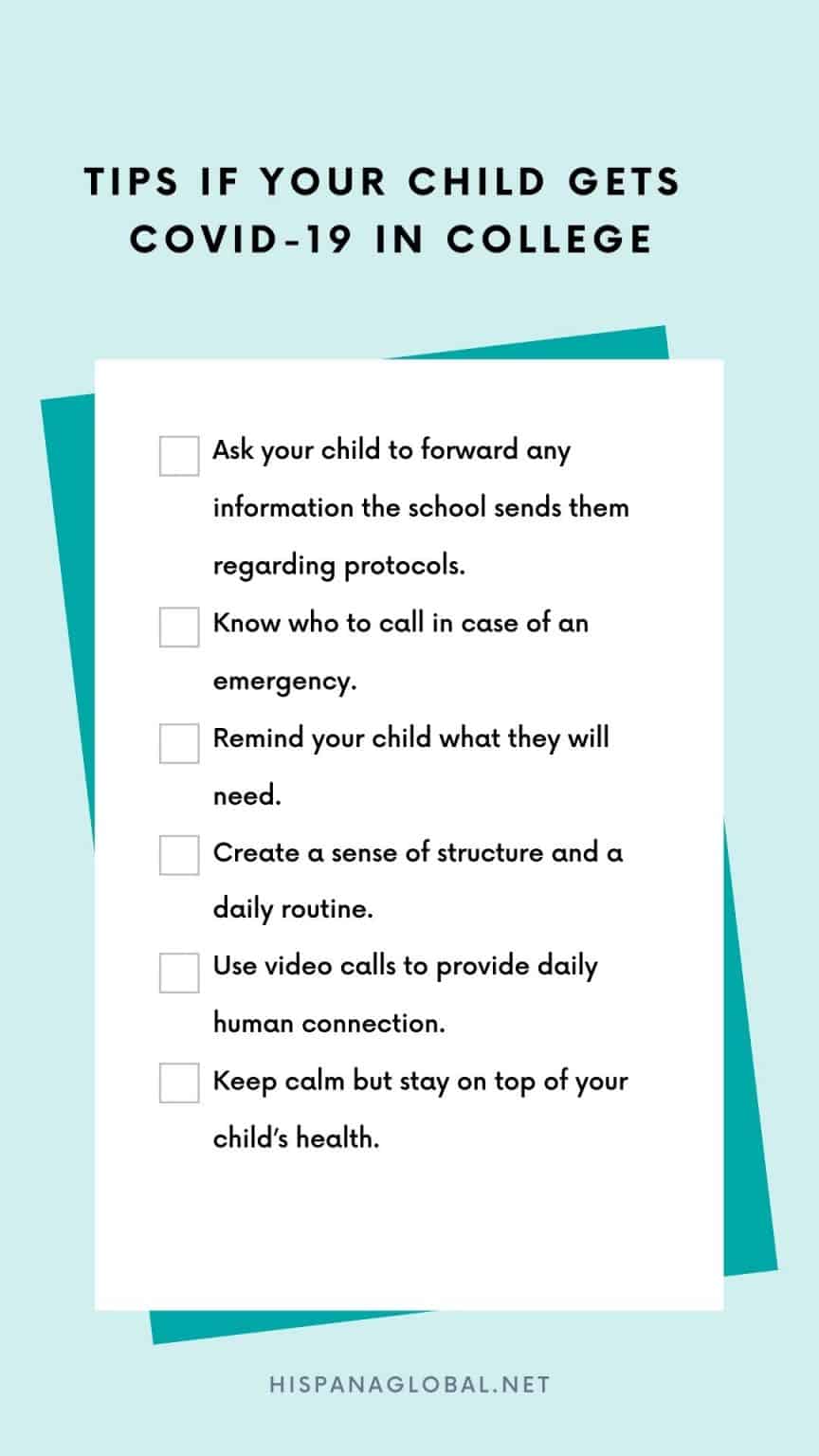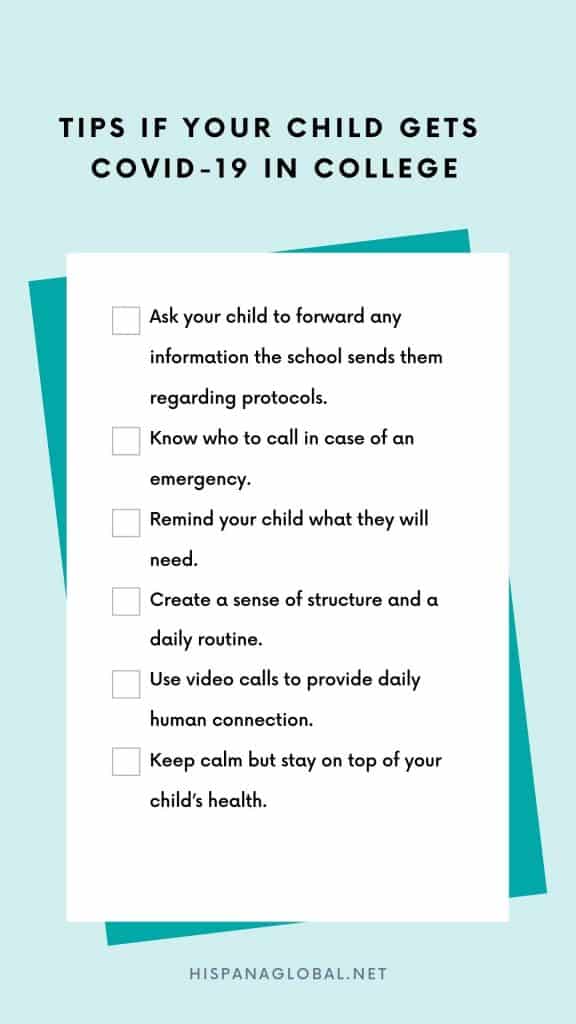 In the end, everything worked out and my son is back at his regular dorm. If you haven't already, you can read his own essay about what it's like to be isolated due to COVID-19 in college. At least now he should be protected with antibodies for a while.
To everybody battling this virus, may you soon recover. And if your college student currently has covid, I hope they soon feel better and that it's a mild case.
Special thanks to the Northwestern University COVID response team, rabbi Mendy of Chabad Northwestern, and everybody who checked in on my son.