The secrets to Emeril's New Orleans' outstanding banana cream pie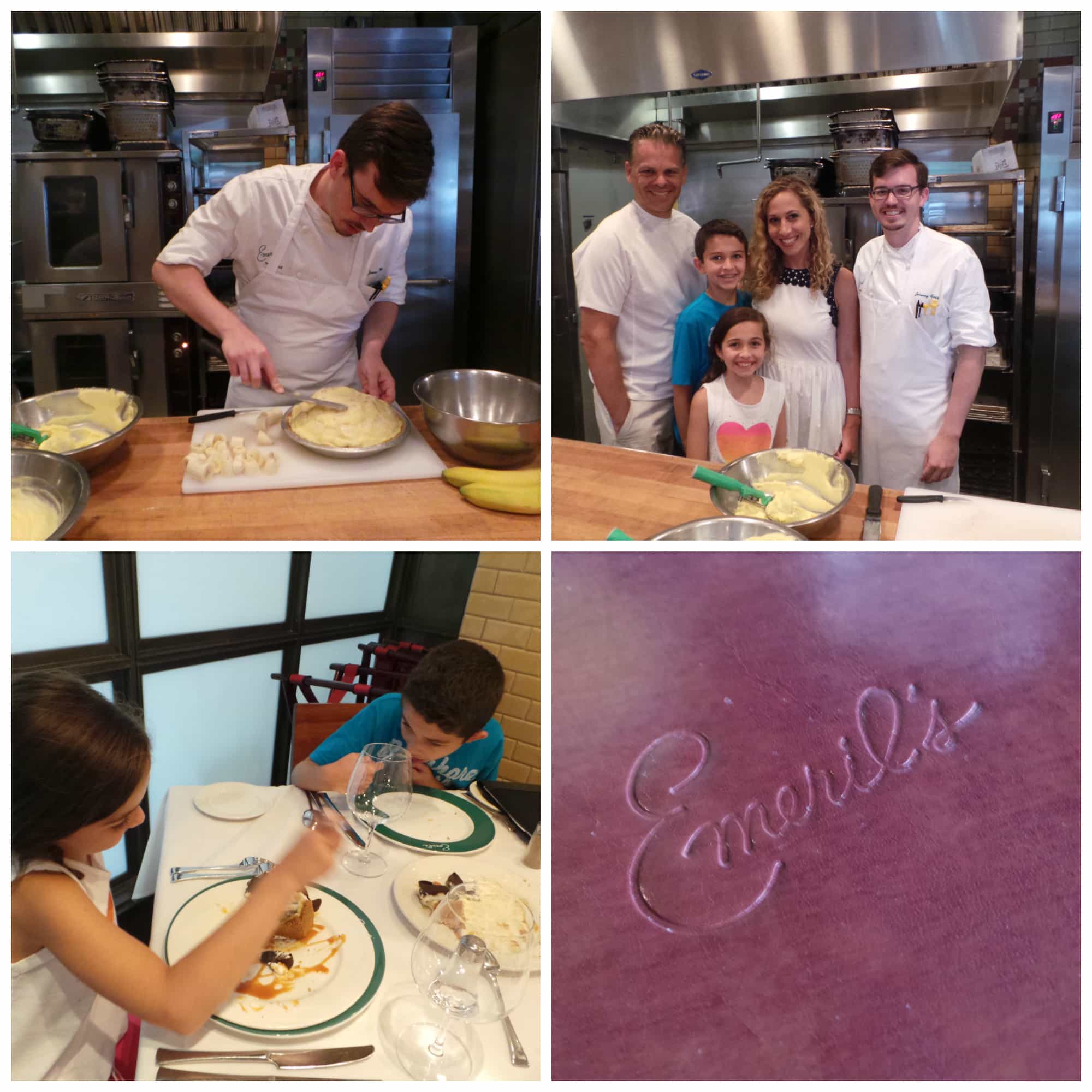 During our recent family vacation in New Orleans, we tried the most delicious banana cream pie at Emeril's restaurant. Words and pictures do not do it justice. It was so good we actually had it twice. And my kids were fighting me for the last bite.
We're not the only ones who find this banana cream pie simply outstanding and worth every calorie. It's been a staple at Emeril's New Orleans since it was created by his original pastry chef in 1990. Current pastry chef Jeremy Fogg was kind enough to allow us to take a special peak at how he prepares these delicious pies. My kids were over the moon because as part of the video we taped, they were able to help chef Fogg. Here's the video:
Here's the amazing recipe.
Emeril's Banana Cream Pie
INGREDIENTS
4 cups heavy cream
1 1/2 cups whole milk
1 1/2 cups plus 2 teaspoons granulated sugar
1 vanilla bean, split in half lengthwise and seeds scraped
3 large egg yolks
2 large eggs
1/2 cup cornstarch
3 pounds (about 9) firm but ripe bananas, peeled and cut crosswise into 1/2-inch-thick slices
1/2 teaspoon pure vanilla extract
Shaved chocolate, for garnish
Confectioners' sugar, for garnish
Fresh mint, for garnish
DIRECTIONS
Combine 2 cups cream, the milk, 1/2 cup sugar, and vanilla bean and seeds in a large heavy-bottomed saucepan over medium heat. Bring to a gentle boil, whisking to dissolve sugar. Remove from heat.
Combine egg yolks, eggs, cornstarch, and 1 cup sugar in a medium bowl; whisk until pale yellow in color. Set aside.
Whisk 1 cup hot cream mixture into egg yolk mixture. Gradually add egg mixture to hot cream mixture, whisking constantly. Bring to a simmer, stirring constantly with a large wooden spoon to cook out cornstarch and thicken mixture, about 5 minutes. (The mixture may separate slightly; if so, remove from heat and beat with an electric mixer until thick and smooth.) Strain through a fine-mesh strainer into a clean bowl. Cover with plastic wrap, pressing down against the surface to prevent a skin from forming. Chill in refrigerator for about 4 hours.
To assemble, spread 1/2 cup custard over the bottom of the prepared crust, smoothing with the back of a large spoon or rubber spatula. Arrange enough banana slices (not quite one-third) in a tight, tiled pattern over custard, pressing down with your hands to pack them firmly. Repeat to build a second layer, using 3/4 cup custard and enough bananas to cover, smoothing down the layer evenly. For the third layer, spread 3/4 cup of custard over bananas and top with remaining bananas, starting 1 inch from outer edge and working toward center. Spread 1 cup custard evenly over bananas to prevent discoloration. Cover with plastic wrap and chill for at least 4 hours or overnight.
In a medium bowl, whip remaining 2 cups heavy cream until soft peaks form. Add remaining 2 teaspoons sugar and vanilla extract and continue to whip until stiff peaks form.
Remove pie from refrigerator. With a sharp knife dipped in hot water, cut pie into 10 equal slices. Transfer slices to dessert plates. Fill a pastry bag with whipped cream and pipe onto each slice. (Alternately, spread the whipped cream evenly over the pie before cutting.)
Drizzle each slice with caramel and chocolate sauces, sprinkle with chocolate shavings and confectioners' sugar, garnish with fresh mint, and serve.
Each pie serves 10, if they don't have seconds!
Recipe adapted from "New New Orleans Cooking," by Emeril Lagasse and Jessie Tirsch, published by William and Morrow, 1993, courtesy Martha Stewart Living Omnimedia, Inc.
Read more of what you must do in New Orleans here.
Disclosure: I was invited by the New Orleans Tourism Marketing Corporation on a press trip with my family. Most travel expenses were covered but all opinions are my own and I did not receive additional compensation. Special thanks to the Windsor Court hotel for its hospitality. Also, many thanks to Emeril's New Orleans for allowing us to record this video and reproduce the recipe for its legendary banana cream pie. You can find more tips and information about New Orleans here. 
Special thanks to:
Emeril's New Orleans
Pastry Chef Jeremy Fogg
Camille Breland