Recipe: Baked Brie with Herbs and Grapes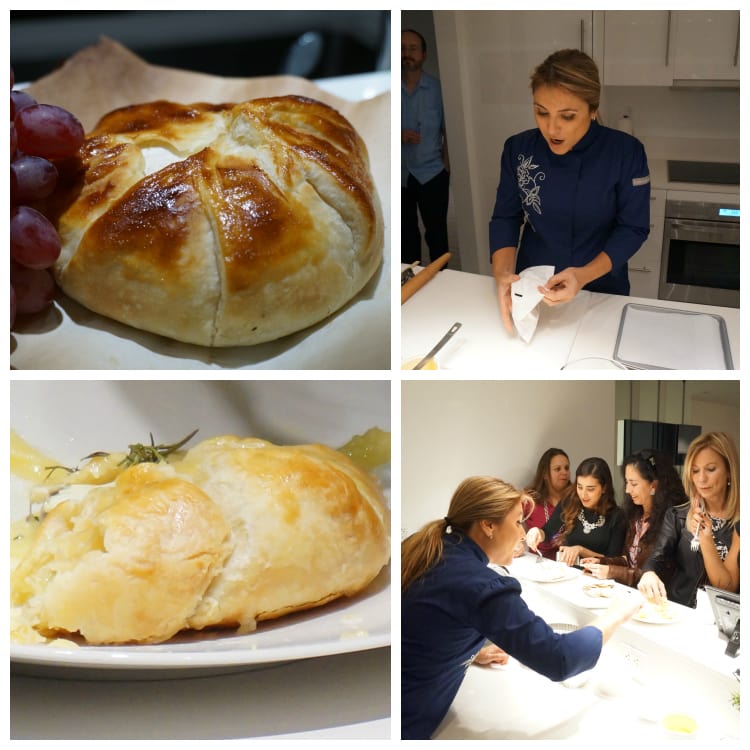 Whenever you have friends and family over, there's nothing better than greeting them with a yummy appetizer fresh from the oven, such as a baked Brie with grapes. It sounds fancy and complicated but I recently saw during a California Grapes event how easy it is. Chef Lorena García demonstrated how in just a few minutes you can prepare her delicious baked Brie "en croute" without having to go to culinary school. Her recipe incorporates grapes, something I would have never thought of. She said it's more than okay to use puff pastry from the supermarket, which I intend to do.
Baked Brie with Herbed Grapes
1 mini brie wheel (8 oz. wt)
1 cup California seedless grapes
1 teaspoon thyme, freshly minced
1/2 teaspoon rosemary, freshly minced
1 sheet (10 square) puff pastry, thawed
1 egg, beaten
Pre-heat oven to 400 degrees Fahrenheit.
Slice Brie wheel in half, horizontally.
Press grapes onto cut side of lower half of cheese.
Sprinkle grapes with herbs.
Press top of Brie onto grapes, sandwiching them in between the two halves of Brie. Set aside.On a lightly floured surface, roll puff pastry into a 16×10 rectangle.
Cut a 6 round and an 8 round shape from puff pastry.
Brush the smaller round of puff pastry with egg.
Set brie/grape sandwich onto puff pastry.
Brush larger round of puff pastry with egg and place egg side down over Brie.
Press out any excess air and crimp edges to seal.
You can decorate the top with puff pastry scraps if desired.
Brush Brie's exterior with beaten egg.
Place on cookie sheet and bake for 20 minutes.
Tent loosely with foil and return to oven for 10-15 more minutes.
Brie should be golden brown and puffy looking.
Remove from oven and let cool for one hour before cutting into the Brie.
Enjoy!