Kids of all ages can't get enough of these Funfetti cake balls.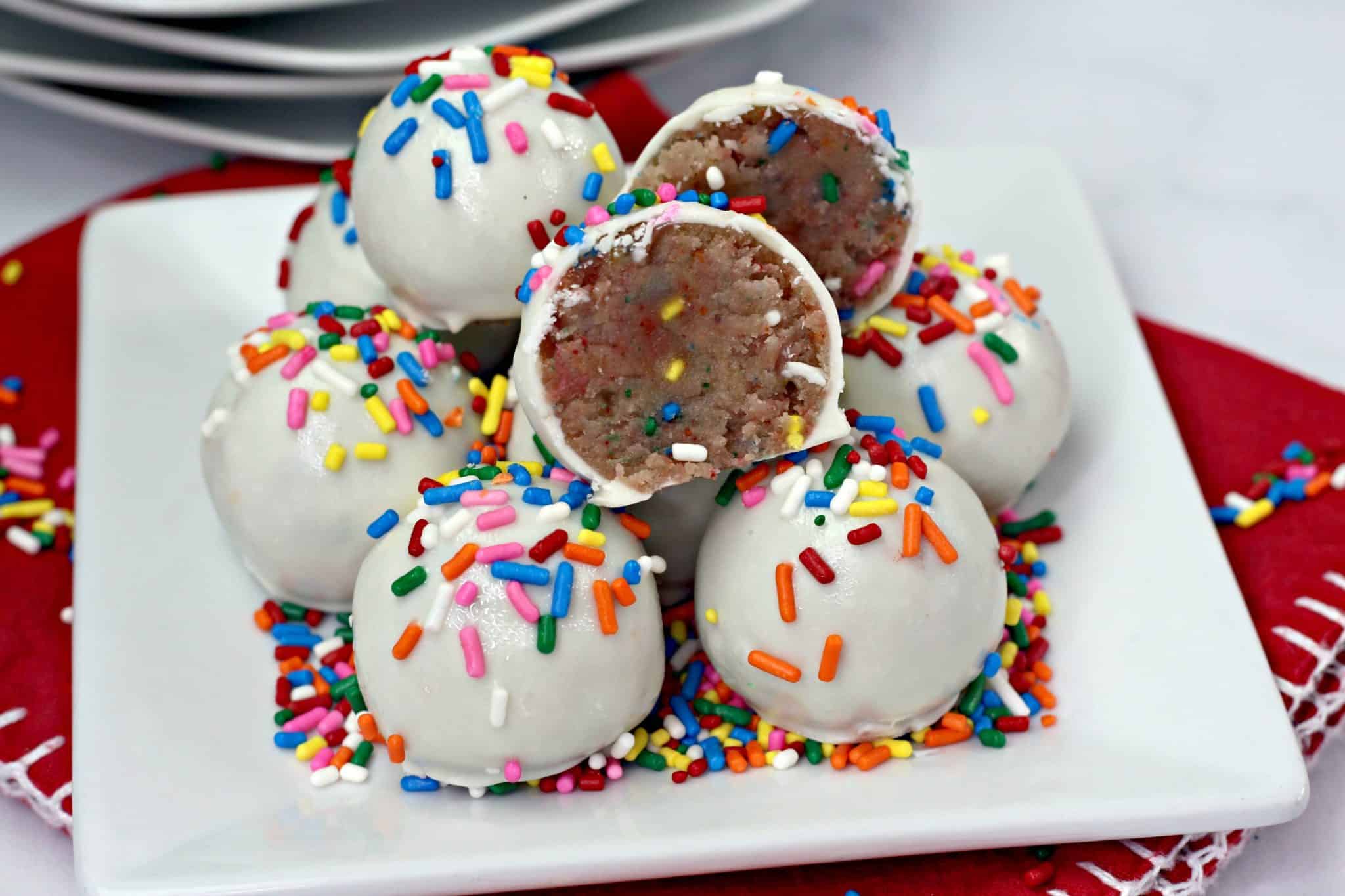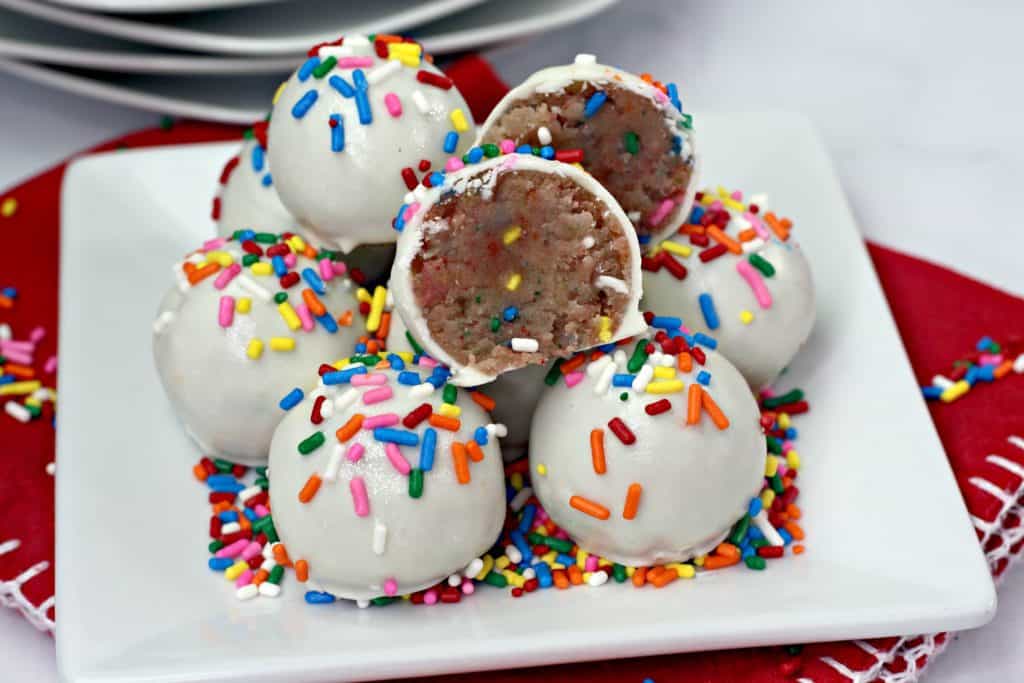 You probably have some idea about how to make cake balls already. It might involve using a baking mold to shape the cake, or altering the recipe in order to create the right batter. As we all know, cake batter is very fluid and does not lend itself to being hand-formed into anything. That's why cake molds work and why they are so neat and fun to use. You can imagine the disaster area your kitchen would likely become if you decided to attempt shaping regular cake batter into balls. It obviously wouldn't work. What's the secret you ask? I'll tell you, but my answer to making Funfetti cake balls might come as a surprise.
If you don't have Funfetti cake mix, no problem. Use any boxed vanilla or white cake mix and add sprinkles to the batter.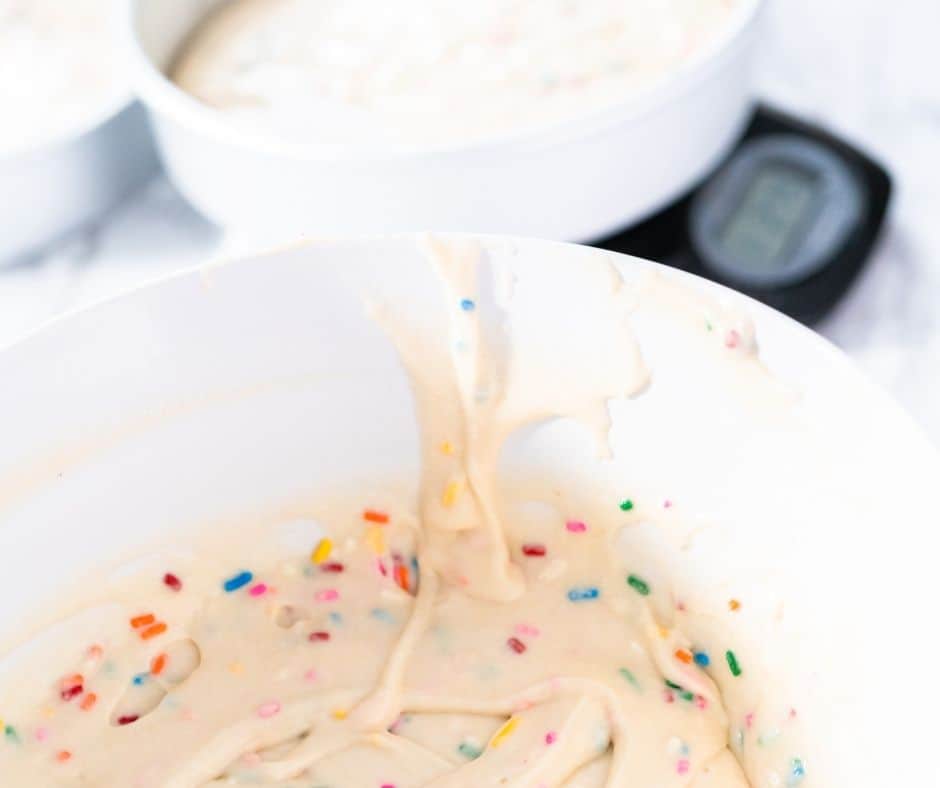 The Art of the Cake Ball
It's a well-known fact that making something into a ball makes it better. It's certainly easier to consume by hand. Theoretically, it helps with portion control (we tell ourselves). It certainly gives us more flexibility in how much and how often we enjoy the tasty treat, whether it's a meatball or a chocolate ball. Cake balls are not only enjoyable and convenient, they are also easily served in less formal settings, and make a better option for a quick grab and go snack.
Okay, so we all love cake balls. Great. How do you make them? The answer is both more simple and more complicated than you'd expect. You don't have to alter the cake recipe at all, and you don't need a mold. All you have to do is bake cupcakes, and then crumble them. This recipe shows you how to easily transform a baked cake with confetti sprinkles into Funfetti cake balls. You will also learn how to coat these balls in delicious melted white chocolate.
Poll: Do you enjoy cake pops more, or do you prefer cake balls without the stick. Leave a comment to vote.
Funfetti Cake Balls
Ingredients:
1 box of Funfetti cake mix

3 Eggs

1/2 cup Oil

1 cup Water

1 container of vanilla frosting

Confetti sprinkles

cupcake pan

cupcake liners
Directions for How to Make the cake balls:
Preheat the oven to 350 degrees F

Make the cake batter according to the box

Scoop batter into the cupcake liners in a cupcake pan

Bake the cupcakes at 350 degrees for 21 minutes.

Remove cupcakes from the oven and let cool.

Remove liners and crumble the cake into a medium bowl.

Add 1/2 tbsp. frosting to the crumbled cake.

Combine until dough-like

Take a small size of the dough and form into a ball

Continue until all cake mix is formed into balls

Place onto a plate and place into the freezer for 30 minutes until solid
Directions for How to prepare the chocolate
Using a double boiler, melt the white chocolate

Pull out the cake balls and set onto the counter next to the melted chocolate

Using a fork, place a cake ball onto the fork and carefully dip it into the chocolate

Lightly tap the side of the pot to get rid of the extra chocolate
Final steps to make the Funfetti cake balls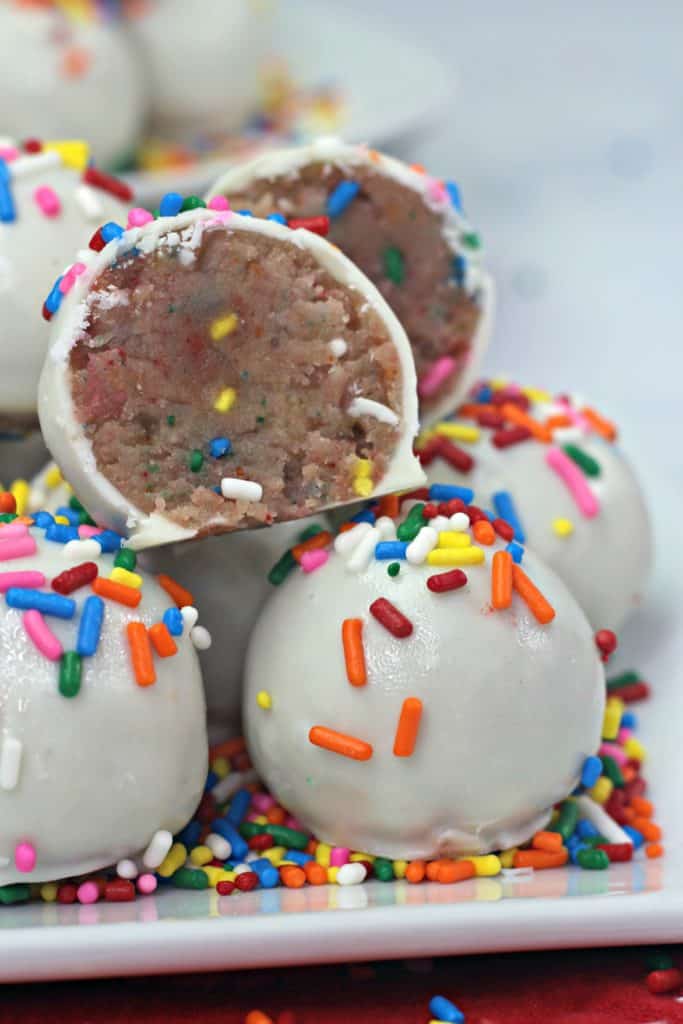 Place cake ball onto the cookie sheet

Sprinkle some confetti on top of the cake balls

Repeat with remaining cake balls.

Once the chocolate is hardened, slowly pull out the sticks for cake balls or leave in for cake pops.

Serve, wrap or box to give as homemade gifts.