7 Reasons Why Gardening with Kids is Great
I have to tell you — I'm not much of a gardener.  As a city girl, I really didn't see many people tend to gardens growing up. But I see the value in gardening with kids. I learned all about it when I spent my summers in Ecuador. It was there that I was able to see people grow oranges, mandarins, and so much more. Everything was so lush and beautiful. Gardens are a bit magical, they are colorful, and full of life.
So I love the idea of gardening and I know that it has many benefits. Even though we live in NYC, we are lucky enough to have an outdoor space where we can garden, and we've been able to grow eggplants, butternut squash, basil, peppers, zucchini, cilantro, rosemary and even grape tomatoes!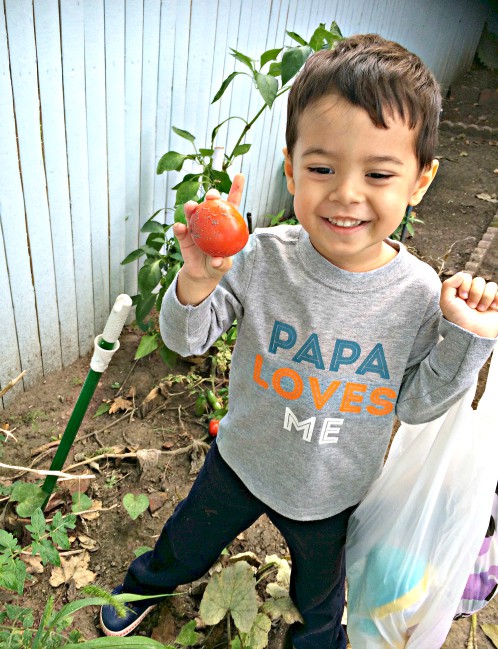 I love having my son take part in gardening and spending time in our backyard. I think it is very important for kids to learn where food comes from and how it grows from the earth.
Not convinced? Here are some reasons why gardening with kids is great and you deserve to give it a try:
Gardening is a learning opportunity. You don't only learn how food grows.  Kids can learn about the different types of things you can garden (flowers, herbs or vegetables or even trees). You plant a seed, you water it, and watch it grow. If they plant flowers, they can cut them and give them to a loved one. When veggies grow, they can learn how to make recipes using the food in their garden.
Kids use all their senses when they are in a garden. They can touch the dirt. They can smell the grass, they can look at the different colors and examine the different types of vegetables and herbs that are growing. They can hear the birds chirping as well. They can see different insects, bugs and birds that are in or near the garden.
Kids will be more likely to try food that they help grow. If a child has helped grow vegetables, he will be more likely to try it.
Kids can learn responsibility and patience.  Kids can learn that plants have to be watered, that they have to be patient and watch it grow.
Gardening can be a great way to bond with abuelos. I'm a city girl and truthfully I don't know much about gardening, but my father likes it. Having a little space he can garden in reminds him of his homeland. My son loves being in the garden and helping his Papi — and bonus, he can practice his Spanish skills as well.
Gardening sparks curiosity. Kids ask questions: Why is this plant growing this way? How big is that tree going to get? Tomatoes come in different colors? How come some plants need a lot of water and others don't?
Gardening is a great alternative to watching TV or playing with electronics! Gardening allows us to head outdoors and get physical: digging, watering, raking, etc. 
Gardening is all about learning, growing and bonding… exactly the things we want to experience with our kids!
Do you garden with your kids? Share your pictures and experiences below!