3 Easy Trail Mix Ideas to Prevent Hangry Mom Syndrome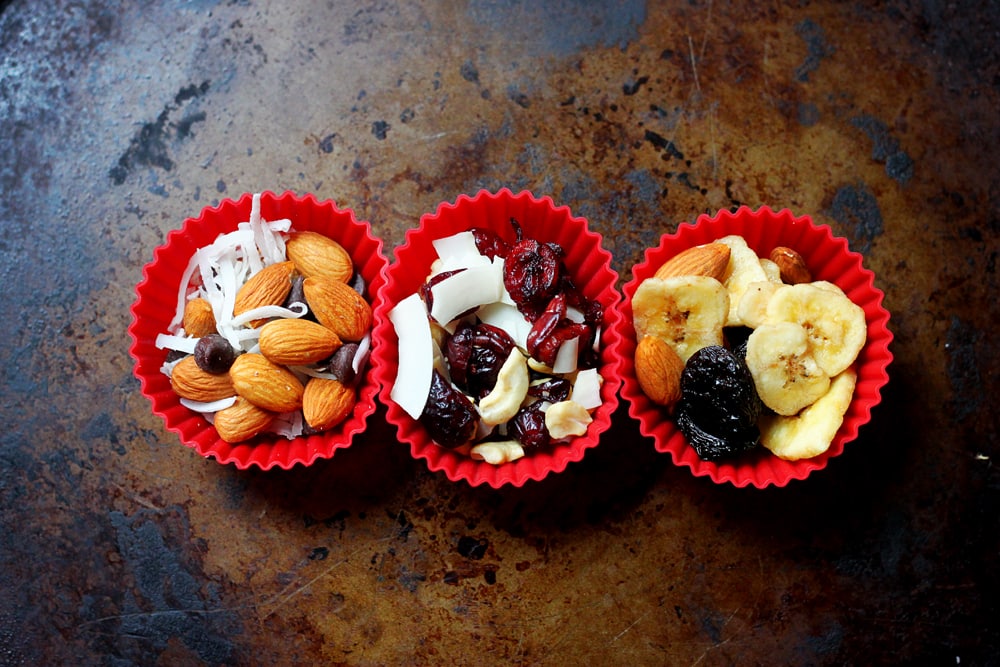 Feeling hangry is no fun. That moment when your hunger combines with anger can actually scare everybody! Men are always complaining about the hangry women in their lives, but you wanna know what's worse than a hangry girlfriend or a hangry wife? A hangry mother! Seriously, no child should ever have to deal with that. Don't panic, though, because I have three super easy trail mix recipes to help you avoid hangry mom syndrome.
I'll be honest, I have not been much of a trail mix eater for most of my life, but I started recently out of sheer necessity. I was on my way out the door to have fun with my family when I felt myself start to get cranky. Not good. When mama is hangry, no one in the family is going to have any fun until she eats! I quickly looked around the house and made an insta-trail mix with things I had and chomped on it in the car. It worked like magic: I was happy, satisfied and ready to have fun.
So after I realized that a quick trail mix snack was enough to keep hanger at bay, on my next grocery shopping trip I stocked up on a few items to make a variety of trail mixes and here's what I came up with!
1. Banana Cherry Almond Delight Trail Mix
Ingredients:
¼ cup banana chips
¼ cup dried cherries
¼ cup almonds
Directions:
Mix 'em up, yum, yum!
2. Almond Joyful Trail Mix
Ingredients:
¼ cup unsweetened coconut flakes
¼ semisweet chocolate chips
¼ almonds
Directions:
Mix 'em up, yum, yum!
3. Triple C: Cranberries, Coconut and Cashews Trail Mix
Ingredients:
¼ cup dried cranberries
¼ cup shredded coconut
¼ cup cashews
Directions:
Mix 'em up, yum, yum!
It's not rocket science. I'm sure you can come up with your own delicious combo ideas, but I thought these would get you on the right trail (pun TOTALLY intended). I recommend mixing up some ahead of time and putting them in plastic baggies that you can pop into your purse when you're in a hurry.
Eat mamás, eat! Nobody likes a hangry mamá.
Image via Claudya Martinez
En español: 3 meriendas con frutos secos que puedes preparar rápidamente