Teaching our kids to respect and appreciate different kinds of families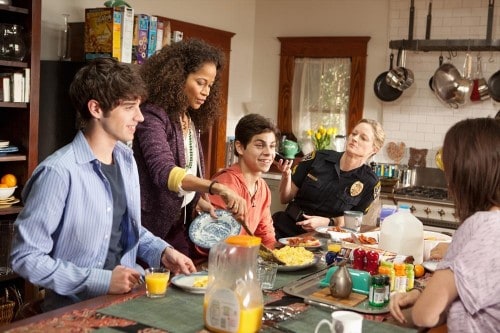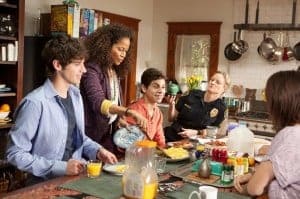 Thanks to ABC Family's new series The Fosters for sponsoring this post. Click here to see more of the discussion. Also, watch the series premiere of The Fosters on Monday, June 3 at 9/8c only on ABC Family.
As a Latina mom, I'm no stranger to multicultural families, but now it's become crucial to teach my own kids how to be tolerant and respectful of others. They are growing up fast and I want them to embrace diversity and understand how everybody's differences enrich the world. It's not only about race, culture or religion, because families also come in different shapes and sizes.
A new television series called The Fosters, which premieres on ABC Family on June 3rd at 9/8 central and counts Jennifer Lopez, Benny Medina and Peter Paige among its executive producers, has given me plenty of food for thought about the evolution of the concept of what a family is. The Fosters centers on a multi-ethnic family with two moms, a biological son, adopted twins and the reality of foster children.
What is The Fosters about?
In the pilot episode, we see how Stef Foster (Teri Polo, "Meet the Parents"), a dedicated police officer, and her partner Lena Adams (Sherri Saum, "In Treatment"), a school Vice Principal, have built a close-knit, loving family with Stef's biological son from a previous marriage, Brandon (David Lambert, "Aaron Stone"), and their adopted twins Mariana (Cierra Ramirez, "The Secret Life of the American Teenager") and Jesus (Jake T. Austin, "Wizards of Waverly Place"). Their lives are disrupted in unexpected ways when Lena meets Callie (Maia Mitchell, "Teen Beach Movie"), a hardened teen with an abusive past who has spent her life in and out of foster homes. Lena and Stef warily welcome Callie into their home thinking it's just for a few weeks, until a more permanent placement can be found. Throughout the episode, we get to see what really makes a family.
Perspective as a mom
What was especially interesting for me as a mom was realizing that it is not easy at all to teach our kids to respect and appreciate different kinds of families. They might not see many families different to their own and on television, until now there are certain stereotypes that affect their vision of what a family looks like. The less exposed they are to diversity, the harder it becomes to help them embrace how different other might be and how we need to understand, respect and value those differences.
Tips to teach respect to our children
If teaching respect and tolerance to your kids is important to you, here are a few tips:
Explain how not everybody is alike, and that there are different cultures, languages, races, and religions in the world.
Be clear that being different doesn't make one person better or worse than others. Also share that diversity enriches our lives and expands our minds.
Teach that even if we disagree, we need to show respect to others. Explain that we can all learn from each other and that we can listen to others and have different opinions.
Find a common denominator your child can relate to. When explaining the different kinds of families to my own children, I explained that some families have a mom and a dad, others have only a mom, others just a dad, and that others have two moms or two dads. But most importantly, I stressed that in all those cases, what constitutes a family is the love they share, how they care for one another and how they watch out for everybody in their family.