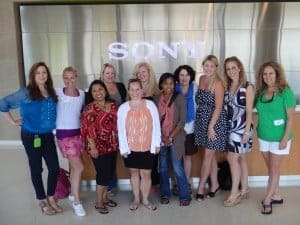 Technology is essential not only to me as a blogger, but also as a mother. It is an important part of my life and photography has always been a hobby of mine. Recently, Sony invited a group of mom bloggers to their headquarters in San Diego and I jumped at the chance to go. It was a great experience, not only because we tried out several new products and met the Sony team, but also because we learned photography tips from the amazingly talented Me Ra Koh.
Me Ra Koh not only shared advice we can use even if we are not professional photographers, but she also went with us to do a photo safari at the San Diego Safari park. I look forward to her tips that will air on Disney Junior, since she really understands the challenges of taking pictures of families and young children. During the safari, I was able to try out the Cybershot TX 20, which is waterproof and fall-proof. I will be posting a review later.
I was also fortunate enough to spend quality time with Kimberley Blaine, Beth Blecherman, Kim Orlando, Ciaran Blumenfeld, Sarah Auerswald, Michele McGraw, Grace Duffy, Janice Croze, Shelby Barone, Beth Avant, and Stephanie Ellis. They are all so talented and hard working that it is simply inspiring to get to know them better. If you haven´t checked out their blogs, please do.
What has me super excited is that I will be able to try out new products from Sony and write about them. A lifetime ago I used to get to play with all the gadgets when I was a host for a technology show in Spanish called [email protected]ínea, that aired on the Discovery Channel Latin America. Now, I'll be doing something similar here thanks to the Sony Moms program and I can't wait to share what I discover.
Here are some pictures I took with my new Sony Cybershot TX 20, which I got to keep at the end of my safari.
Disclosure: As part of the Sony Moms program I received an all-expenses paid trip to San Diego and will receive products to review (some loaned, some to keep). All opinions are my own.