Pneumonia: let's help end it


Pneumonia is one of the leading causes of death in children under 5 years of age. I know this personally because if my youngest daughter hadn't received medical care when she was 17 months, her pneumonia could have taken her life. I am not exaggerating.
It all started with a high fever, that later evolved into a flu and then she could hardly breathe. We had already been to the pediatrician but her illness progressed very fast and when I saw she was lethargic, I raced to the emergency room after speaking with the doctor. The three days at the hospital were the longest days of my life. I did not leave my daughter's side until we went home. I still thank G'd every single day for her recovery and the medical team that was able to treat her at the Joe Di Maggio Children's Hospital.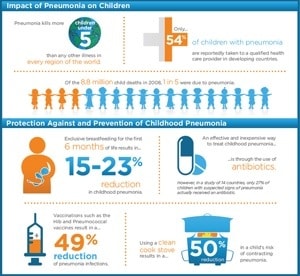 My heart breaks for the mothers who aren't so fortunate. Pneumonia is one of the leading killers of children under the age of 5 around the world. It accounts for 18 percent of child deaths in developing countries. If you live in a poor country, chances are you know too many children who have died due to this respiratory illness.
What is being done
The United Nations Foundation is working on two solutions to combat pneumonia: immunization and clean cookstoves. By increasing access to global vaccines, we can save the lives of millions of children. Shot@Life, which I proudly support and helped in August during Blogust, is working to build a movement in the U.S. to support the work of implementing partners like the GAVI Alliance, UNICEF and the World Health Organization that are delivering vaccines to the children who need them most. This December, GAVI will begin a vaccine roll-out to protect 1.8 million children from pneumonia in Tanzania. But you don't have to be a health worker to help. There are many events organized by Mocha Moms to raise awareness throughout the US. You can read more about it on their blog.
Harmful smoke from traditional cookstoves and open fires kills 2 million people every year – about half of whom are young children who die from acute lower respiratory infections, most commonly pneumonia. Last year actress Julia Roberts helped raise awareness about this issue. She is also Ambassador to the Global Alliance for Clean Cookstoves, which works with more than 400 public, private and non-profit partners to facilitate the adoption of clean stoves and fuels in millions of homes in developing countries. It's crazy to think that something as simple as clean cooking solutions can dramatically reduce exposure to smoke that causes pneumonia.
What you can do