Minimalist Parenting has great tips and helps women at risk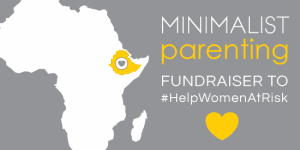 A few months ago, I read Minimalist Parenting by my friends Christine Koh and Asha Dornfest and was instantly inspired to let go of what was weighing me down and allowing more joyful moments into my life. I still cannot say I am a total minimalist, but I can proudly say that slowly but surely I am leaving more and more space for things and moments that bring me happiness. This has a ripple effect across my family and I hope more parents get inspired.
Now, I'm super excited because Christine and Asha have decided to #HelpWomenAtRisk.  Between October 1-31, the co-authors of Minimalist Parenting are donating 100% of royalties for books purchased via this special link  to WOMEN AT RISK, an Ethiopian organization that helps women lift themselves out of prostitution.
Why Minimalist Parenting can help all stressed-out parents
Asha and Christine have inspired me to organize my life and reduce emotional and physical clutter. Why? Because I have reached a point in my life in which I want to spend more time enjoying what I do, instead of just running from one place to another, trying to get through my to do list as fast as I can. This quote from their book really inspired me:
"It takes trial and error to navigate toward balance. It takes time to get comfortable with the idea that by doing "less" you're actually inviting more goodness into your life." Excerpt  from "Minimalist Parenting." Bibliomotion, 2013-03-19.
How? By becoming the curator of your life. "The key lies in fine-tuning your filters so only the important stuff makes it onto your worthy-of-attention radar. The question goes from "How do I fit everything in?" to "What's most important to fit in?"
Asking yourself what is really important is key. It gives you a sense of direction, especially when you fall into the routine of running from one place to another, sometimes on autopilot.  For me, achieving an overall sense of balance is truly important, but I gave up on having it all at all times a long time ago.
Find out more at http://minimalistparenting.com/helpwomenatrisk