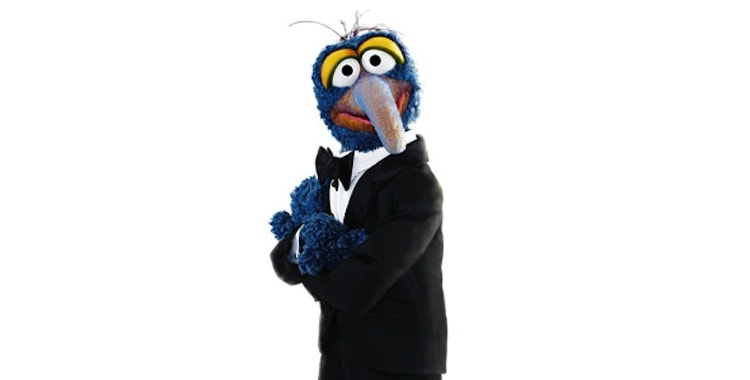 Gonzo of Muppets fame is many things: he's dashing, he's talented, he's funny and he is daring, very daring. In the Muppets newest adventure Muppets Most Wanted, Gonzo tries something very courageous, adventurous, and bold. While in Madrid on the Muppets world tour, Gonzo runs with the bulls…on stage!  But he is not alone, he enlists the one and only Salma Hayek to do the crazy stunt with him. We had the opportunity to interview Gonzo about his experience in Spain, working with Salma and his soul mate.
So, that whole running with the bulls thing. Was it painful?
 Indoor running of the bulls like we did in Muppets Most Wanted was very painful – not only to my body, but also to your flooring. We had to put in all new hardwood floors after that performance. Next time, I'm only let them run on the wall-to-wall carpeting.
Why would you want to do that?
Why would I want to do indoor running of the bulls? Asking that is like asking me why I'd want to balance a piano on my nose or hum "Flight of the Bumblebee" while eating a steel-belted radial tire? I do these things because…uh…because, well, nobody else wants to do them so it might as well be me.
What was your favorite thing about Madrid?
What else? Salma Hayek… Uh oh, now I'm going to be in big trouble with my girlfriend, Camilla the Chicken.
What did you EAT when in Madrid?
I loved the paella and the gazpacho (though they kept serving it cold) and I wanted to try the Gambas al Ajillo, until I found out it was made from prawn, which made my co-star Pepe the King Prawn very nervous. I have a rule: never ingest anyone you know.
How was it working with Salma Hayek?
Wow, you are really trying to get me in trouble with Camilla, aren't you? Salma was wonderful, completely willing to do anything I asked her – especially if I didn't tell her exactly what it was—and she had great health coverage, which is absolutely essential when you're running or being run over by bulls. For a non-chicken, Salma is great.
Do you think she'll ever work with you again?
Absolutely. Especially if I wear a disguise and tell her my name is Antonio Banderas.
What is next for Gonzo?
I plan on going bog-snorkeling in Barcelona. Care to join me?
So Kermit has Miss Piggy, is Camilla the Chicken the one for you?
There's only one mate and that's my dear, beloved Camilla the Chicken. She is, to quote myself: poultry in motion.
See Gonzo and the whole gang (and his attempt at running with the bulls in Muppets Most Wanted, available on DVD now!
Photo Source: Walt Disney Studios