Freedom and civil rights: don't take them for granted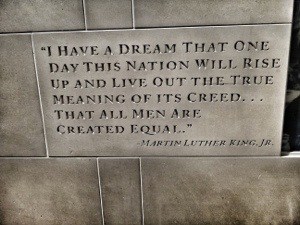 Martin Luther King Jr.'s "I have a dream" speech is one of the most powerful ever written. His dream needs to be kept alive. I am proud that my children know it and have learned what it stands for. Their schools have done a great job at explaining it year after year according to their level of comprehension. But teachers cannot do much without the support of parents and that's why I make it a point to make my children understand how important respect and tolerance are. However, most of all I explain to them they cannot take for granted our freedom or our civil rights.
I am fortunate enough to have grown up feeling I had equal rights as a human being. Little did I know when I was a young girl how hard others fought for those civil rights. That is why today I honor the memory of Dr. Martin Luther King Jr. I honor his courage. I honor his words. I honor his legacy. May there continue to be people who stand up for others, for they are our true heroes.
Discrimination and racism are still prevalent in our society. Segregation might have ended decades ago but if you've ever been a minority you know there are many ways discrimination rears its ugly head. Sometimes it is so subtle you think you are simply being paranoid.
There have been times I have been a triple minority: a Latina Jewish woman. Most of the times I have to admit people are respectful, but it only takes one remark, one insult, one person to hurt you in a way that changes your perspective. The first time I really heard a racist remark, I confess I was paralized. I am ashamed to say I kept silent. Not because of fear, but out of shock. I could not believe it was happening. And I felt as if my brain shut down and I couldn't think of anything smart to say. The next time something similar happened I did stand up for myself. I was barely 18.
We have come a long way, but there is still much to be done. Start at home, teach your children about the richness that diversity brings into everybody's lives. Teach them to value their civil rights, to be responsible about their civil duties. Because we have to protect what cost others so dearly. And it all starts at home.