Flatter Your Body With A Jumpsuit (And 3 Simple Tips)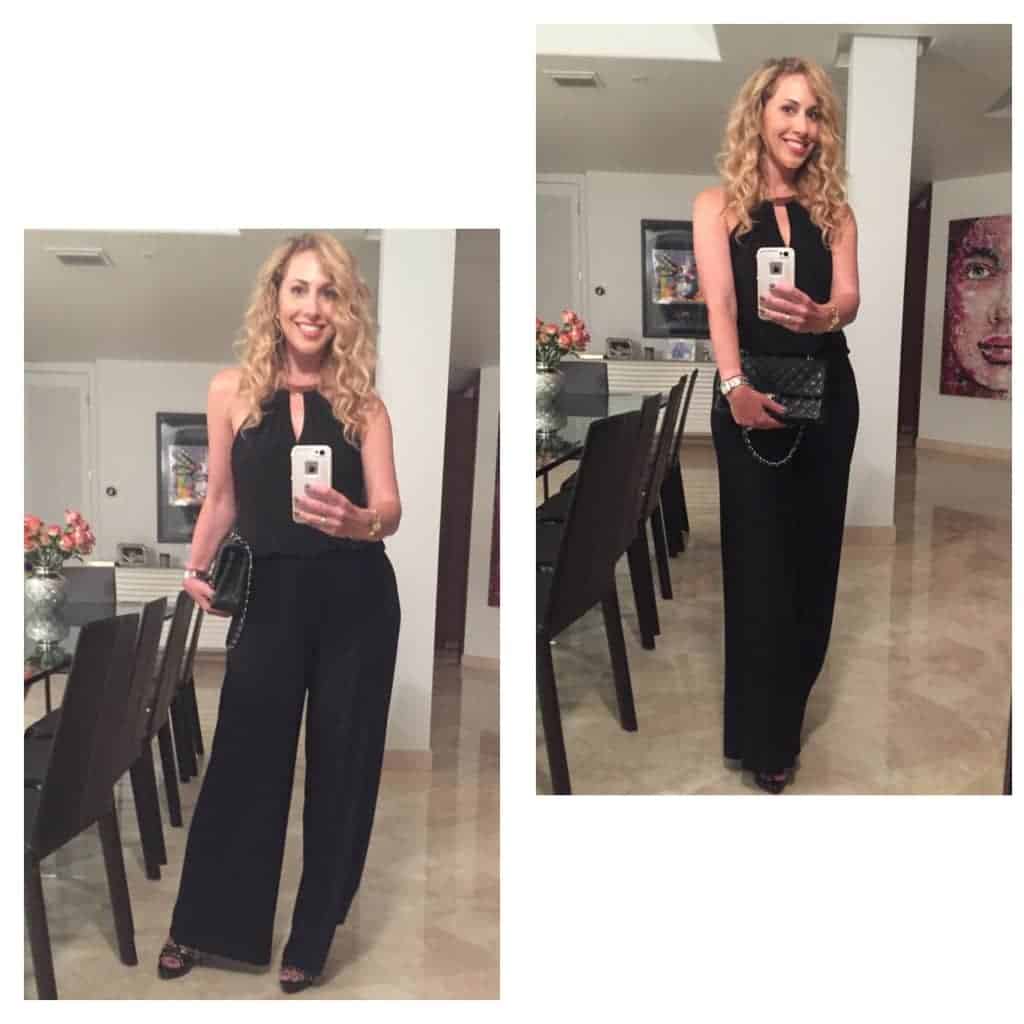 A great jumpsuit looks so effortless and chic when done right. However, wearing one can be quite intimidating if you're not model-thin or if you don't choose one that's cut well. Skintight jumpsuits can look cheap, and call attention to those areas of your body you would rather conceal. For quite some time I have been looking for a flattering jumpsuit that will highlight my waist but skim over my hips.
The other day I found that perfect jumpsuit totally unexpectedly. I was shopping back to school clothes for my kids as part of a JC Penney campaign and I saw that the Bisou Bisou collection was on sale. This black, ultra soft jumpsuit with gold detailing immediately caught my eye, but I wasn't sure how it would look on me. I was pleasantly surprised!
This cut is very flattering for many reasons, especially if you are pear-shaped like me or have curves. The wide pants are extremely forgiving, the fabric is a soft jersey that is not too thin, the gold necklace calls attention to your face and it flatters your waist. If you're not comfortable showing off your shoulders or arms, though, this is not the best style for you. What I loved even more? This jumpsuit is on sale for less than $60.
Not sure how to wear a jumpsuit or how to accessorize it? Here are 3 tips:
A black jumpsuit is a classic and always looks chic. Dress it up with gold or silver accessories, but don't overdo it. A necklace and cuff go well. In this case I wore small studs and accessorized with a bold cuff from Stella & Dot (you can shop for it on my online store).
Make your legs appear longer by wearing heels. If your jumpsuit has wide legs (or has a palazzo cut), heels are a must. I wore black sandals with gold studs, but you can wear any color, especially if you want to make a bold statement.
Complement your look with a clutch or small handbag. For fall, fringe, studs and chains are totally on point.
To inspire you I created this collage on Polyvore. Will you be wearing a jumpsuit soon?
Lee en español: Luce chic con un jumpsuit o enterizo con estos 3 consejos