Don't ignore OTC medications when discussing drugs with your teen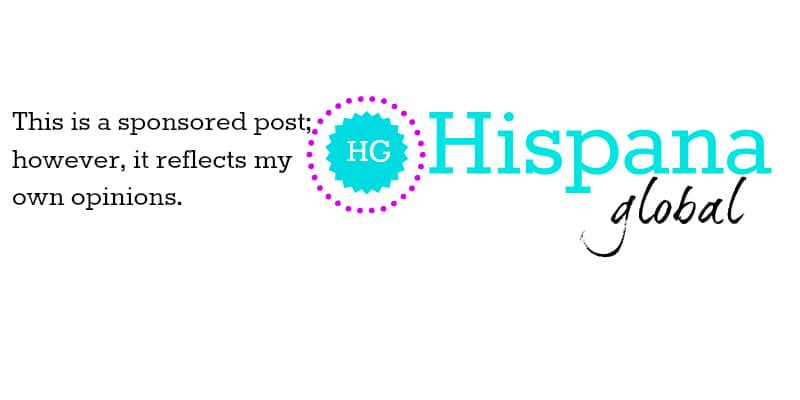 As parents, we expect to talk at some point about drugs and alcohol with our kids, but sometimes we forget that other medications that are totally legal and widely available can be harmful. Specifically, cough medicine is one of the most abused over-the-counter (OTC) drugs by teens. Approximately 1 in 20 teens reports abusing excessive amounts of Dextromethorphan  or DXM to get high. One in 3 knows someone who has abused cough medicine to get high.
This is not new. When I was a teen, one of my classmates joked about how his parents never noticed that he used so much cough syrup. Unfortunately, it was only the first drug he used and he has battled addiction for years. He's a wonderful human being that has suffered for years and I can't help but think that maybe I should have alerted his parents. Of course back then I didn't know how harmful DXM could be or how he would eventually try other drugs. I simply hope we can prevent other teens from following his path. That's why I felt I need to be a part of National Medicine Abuse Awareness Month during October.
What can we do as parents? As I have mentioned before, we need to start talking about complicated issues way before our kids are teens. We need to build trust and make them aware that we know what goes on and that we are open enough to discuss drugs with them. Data shows that what parents say does matter. In fact, teens that learn about the risk of drugs from their parents are 50% less likely to use them.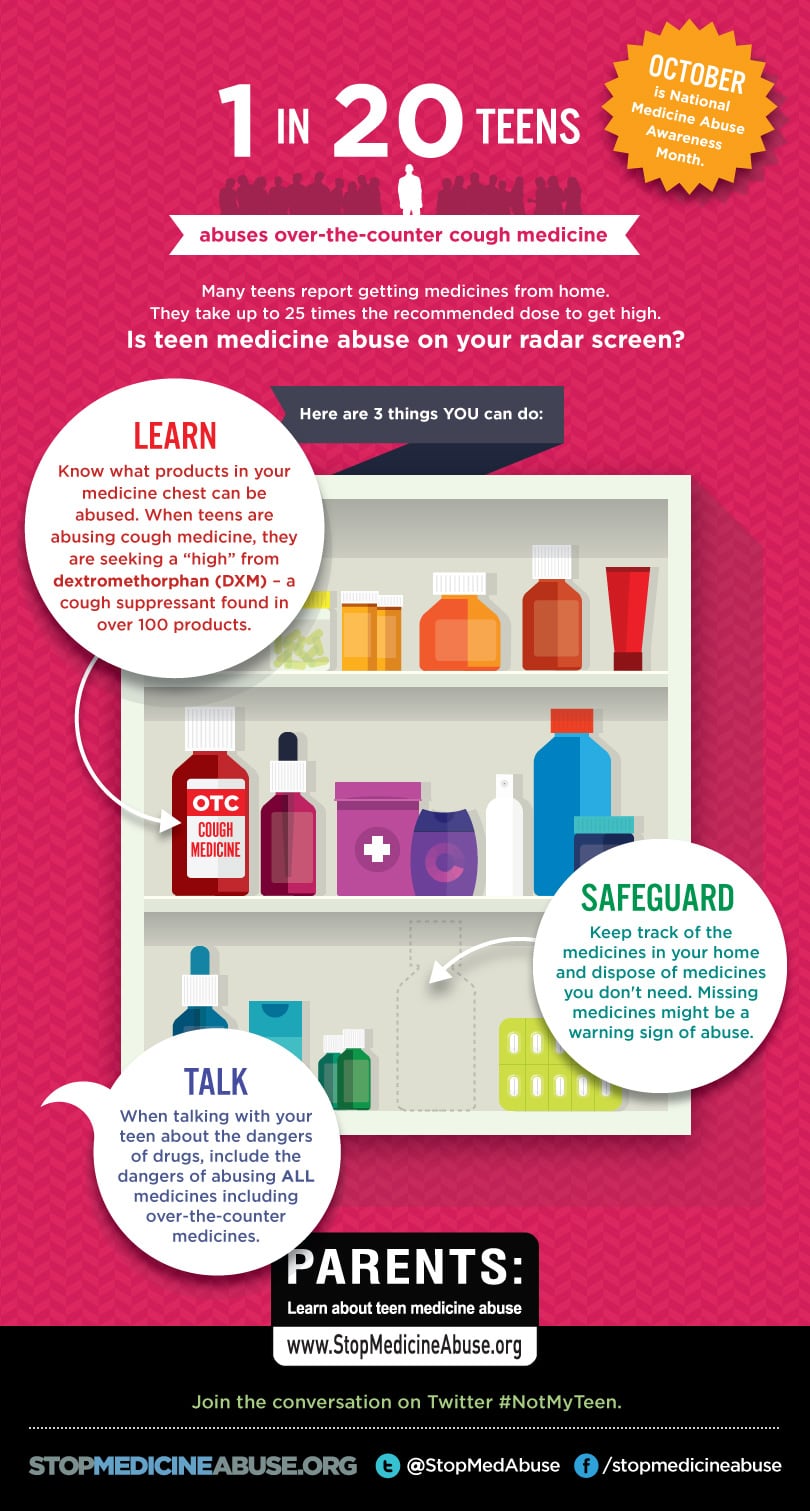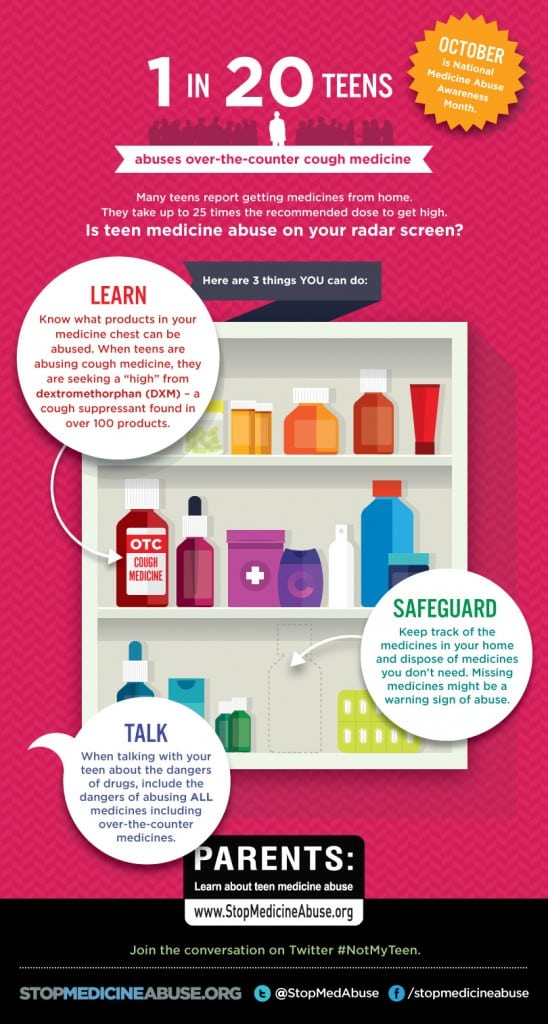 But before you approach your child, be sure to know the facts. What is DXM? Dextromethorphan (DXM) is a safe and effective ingredient found in many over-the-counter (OTC) cough medicines. You also need to use that information wisely, not to preach to your kids, but rather to empower them with facts.
Listen to the language your kids use. DXM is often referred to as skittling, tussin, robo-tripping, CCC, triple Cs, and dexing. Check out the Stop Med Abuse site for a list of slang terms and conversation starters for parents.
Also, keep track of all medications used in your home and get rid of old and expired items.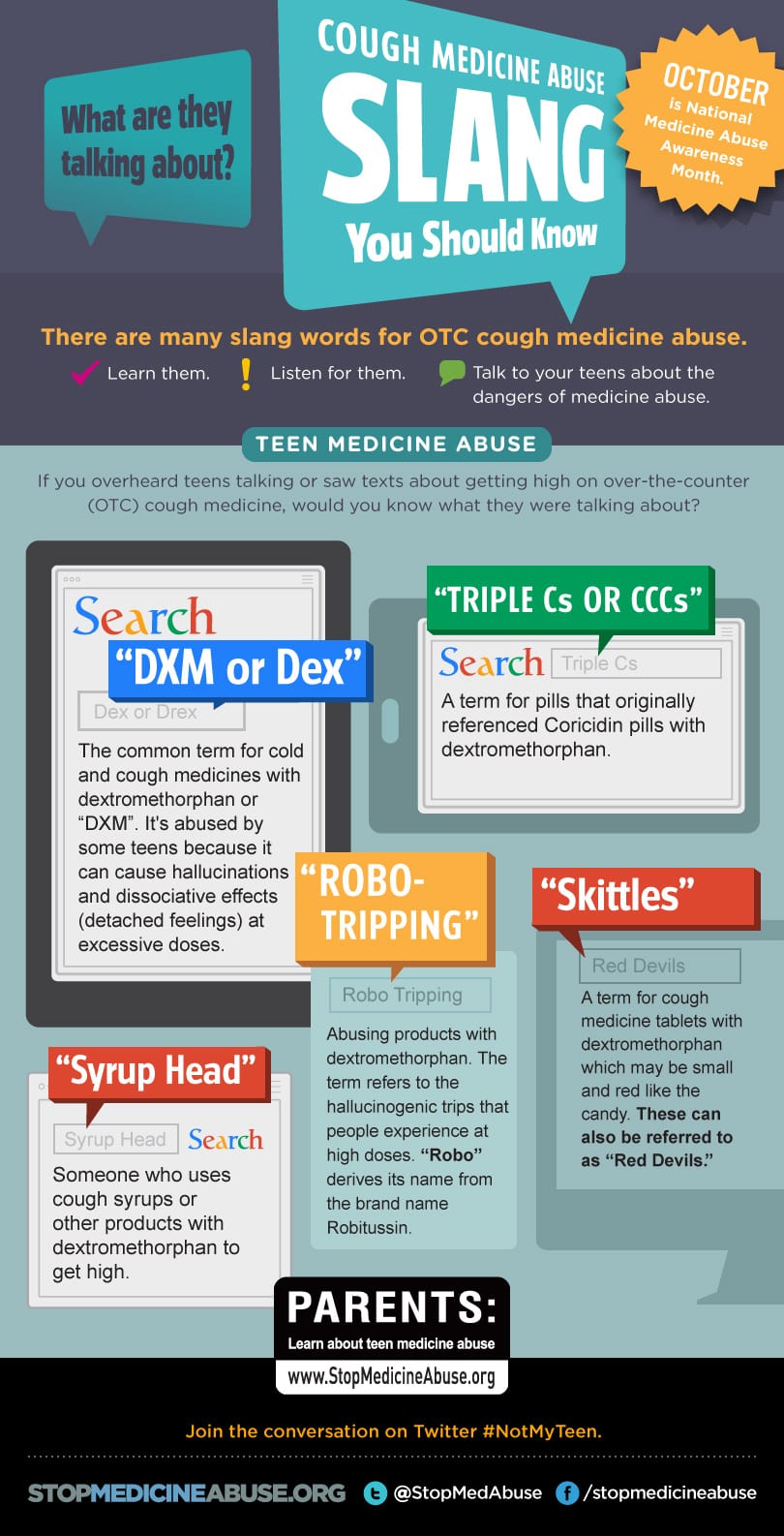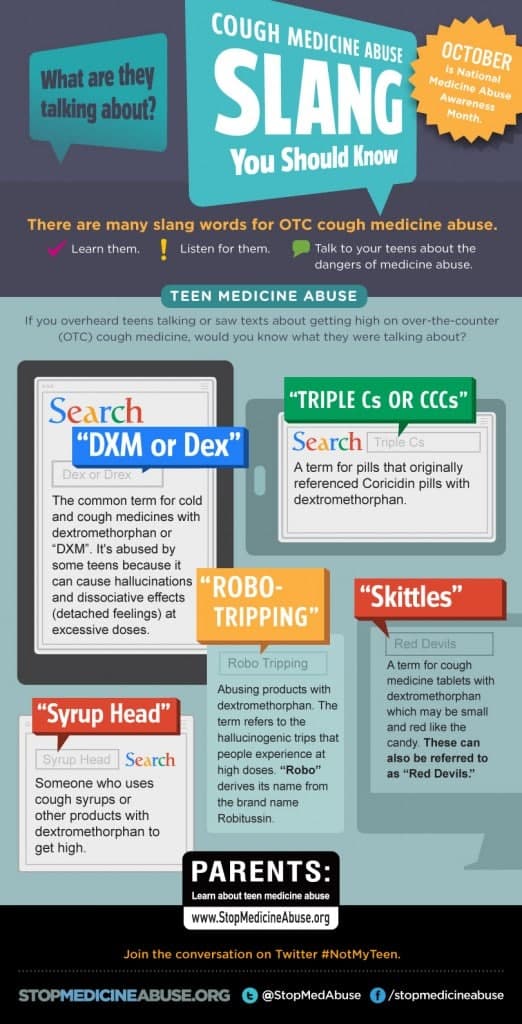 Warning signs of medicine abuse
Stop Medicine Abuse says these are the top signs that a child may be abusing OTC drugs:
Empty cough medicine bottles/boxes in the trash of your child's room, backpack, or school locker
Loss of interest in hobbies or favorite activities
Changes in friends, physical appearance, sleeping, or eating patterns
Declining grades.
If you think your teen might be abusing any medication, seek help immediately. Trust your instincts and know that there is professional help available should your child need it.
For more information and useful resources for parents, visit www.stopmedicineabuse.org. Follow @StopMedAbuse on Twitter and use #NotMyTeen.
Disclosure: This is a sponsored post as part of the #NotMyTeen campaign during National Medicine Abuse Awareness Month. Opinions are my own.
Photo: Flickr/AnitaKHart