Casa Latina Home Expo: Free event in New York for families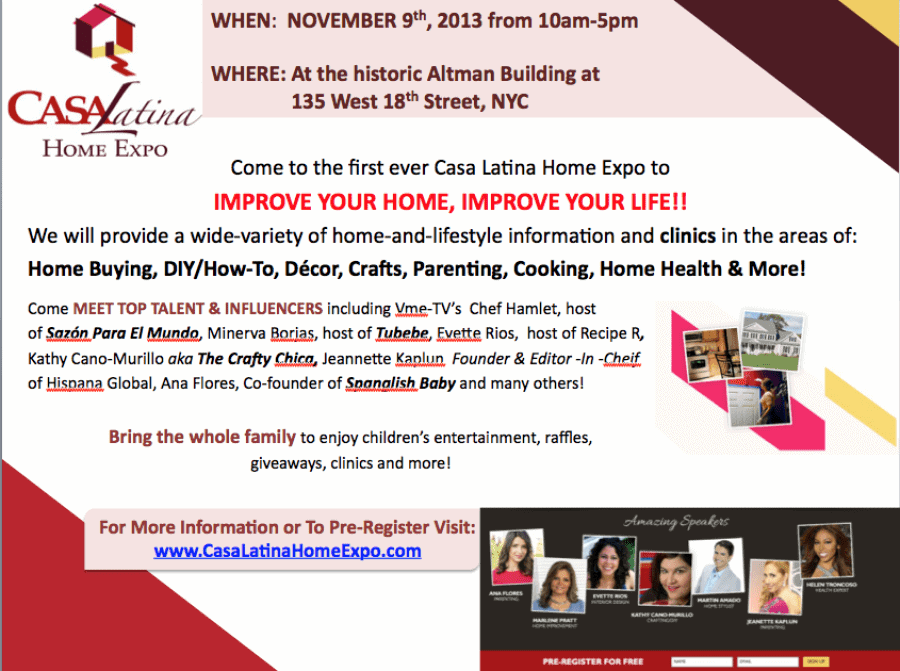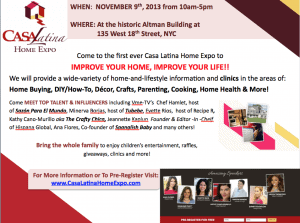 The Casa Latina Home Expo is the first bilingual home expo in the NY Tri-state area and you can come meet me, Ana Flores, Kathy Cano Murillo, Martin Amado, Irma Sanchez, Helen Troncoso, Evette Rios and organizers Marlene Pratt and Nora Diaz Bretherton. The free expo and will take place on November 9th at the historic Altman Building (135 West 18th Street) from 10:00am-5:00pm. You can find more information on the Casa Latina Home Expo website.
This event will provide a wide-variety of culturally-relevant home-and-lifestyle information everybody can use to improve their homes and their lives in an engaging, entertaining and inspiring setting.
Casa Latina has also partnered with BlueCross BlueShield to information the community about the Affordable Care Act and to help them navigate the system and access health care.
Top talent and influencers will host home-and-lifestyle clinics in the areas of Financial literacy, DIY/How-to, Décor, Parenting, Cooking and Home Health.
The all-star lineup includes Vme-TV's  Chef Hamlet, host of Sazón Para El Mundo, Minerva Borjas, host of Tubebe, Evette Rios, host of Recipe Rehap, Kathy Cano-Murillo founder of The Crafty Chica, Ana Flores co-founder of Spanglish Baby and many others!
There will be a fun children's area with tons of fun entertainment brought to you by La Casa Azul Book Store. Jose Luis Orozco will join us to sing and tell stories, children's authors will do readings and Vme Kids is bringing our kid's favorite characters!
All Hispana Global friends are invited. My clinic about the top parenting myths is scheduled for 11:30 am. If you're in the New York City area, I would love to meet you!