It is fall AND my favorite time of year: time to pull out the sweaters, time to drink that pumpkin latte, and  – last but not least – time to buy a new pair of boots! I'm guessing I'm not the only one thinking this way.
I have a huge love for boots. Short boots, tall boots, shearling-lined boots, rain boots… pretty much any type of boot. I wish I could own them all, but I must be far more practical (sadly). Each fall I treat myself to one new pair of boots to add to my collection (but just between you and I, I do get away with buying one or two more during the season, depending on the sales that pop up).
What shoes am I coveting this Fall? Here are my top picks. Which ones would YOU like to add to your wardrobe?
The Riding Boot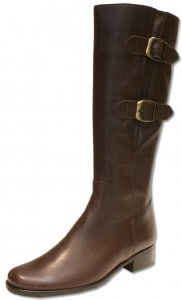 I may not regularly ride horses, but I do so love a pair of classic riding boots. This brown leather pair by Gabor has the added element of the buckles which makes gives them a snazzy edge.
Price:  $325 from Nordstrom
The Hip Suede Bootie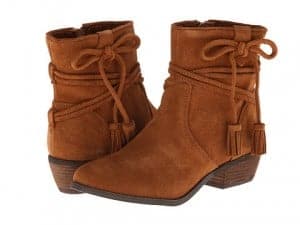 These  Minnetonka 'Mesa' Boots are a hip boho-style everyday boot. These western style suede boots pair well with both skirts and jeans.
Price: $99.95 from Nordstrom
The Cowboy Riding Boot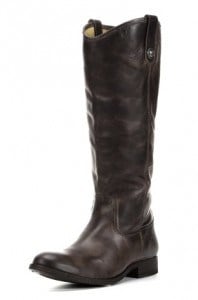 I just bought my very first pair of Frye boots and I now "get it." Their footwear is so sturdy, well made and they really do use fabulous leathers in their construction. I can't believe I waited this long to buy a pair. I didn't pick up their classic Melissa Button boots (above), but when I am ready to pick up another pair, this is totally what I'll buy!
Price: $368 at Country Outfitters
The Shearling Boot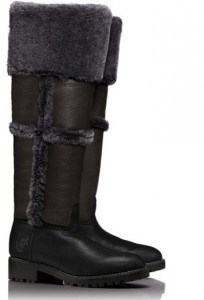 Yes, many go with Uggs for their shearling lined boot needs, but I love this Tory Burch version. They look so cozy and warm. Can't you just imagine heading to a rustic lodge for hot cocoa after a day on the slopes while wearing these?
Price: $595 from Tory Burch.com
The Heeled Bootie

Fashion powerhouse Rachel Zoe designed these edgy yet totally chic pair of booties. I love that they are tough and yet feminine at the same time. And best of all? They are on sale!
Price: $371 (regularly $495) at Nordstrom
Which pair is your favorite?