28 days of impact: 2 moms, pneumonia and vaccines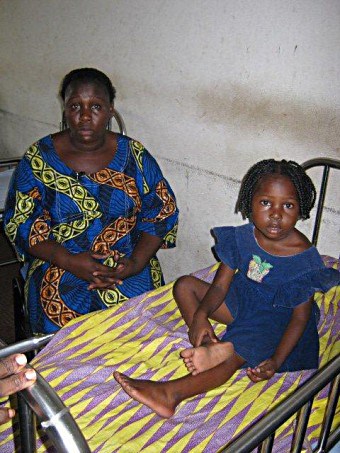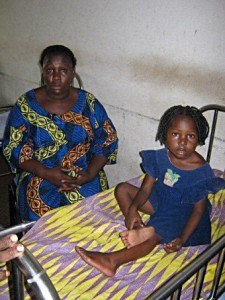 What can I possibly have in common with a woman in Congo? More than what you might think. We both know what it's like to see your daughter fight for every breath. And we both know about the importance of vaccines.
Anne Loumpangou almost lost her daughter, Emmanuelle, to pneumonia. I know what she must have felt because my daughter Sofia was a victim of pneumonia, too. She was only seventeen months old. It was heart wrenching and to do this day I cannot forget how hard it was for her tiny body to do something as simple as breathing.
Anne recalls that for a week Emmanuelle, now 3, had a high fever, pain, difficulty breathing, and could not sleep. At first, she thought it was Malaria but when Emmanuelle's eyes began to swell she knew it wasn't. She took Emmanuelle to the local hospital where Emmanuelle was treated and came to a full recovery even though her lungs had been damaged. Anne now spends time creating awareness about the importance of vaccines.
My own story
Sofia's fever began on a Sunday night.  We went to the pediatrician on Tuesday and thought it was just a virus. By Thursday she was coughing, the fever still was extremely high and I kept forcing her to drink fluids and eat something.  Friday morning she was lethargic and I rushed to the hospital, worried about my baby but never thinking she had pneumonia.
I cried when she tested positive for influenza and she was hospitalized. I cried while the nurse tried to hook her up to an IV and kept missing her tiny veins. I cried when the X ray showed how her lungs were compromised. I cried when she refused the pacifier we were actively trying to wean her from before she got sick.
Then I decided I had cried enough and simply tried to be strong. I held Sofía as much as possible since she didn't like the metallic hospital crib. I freaked out every time the oxygen monitor beeped when she was having trouble breathing. I avoided going to the restroom as much as I could because I didn't want to leave her alone. Nurses had to wear masks to enter the room since influenza is so contagious. I took Tamiflu as a preventive measure so I wouldn't get the flu.
After three days in the hospital, separated from my husband and son since he also was sick, all I could do was thank G'd for answering our prayers. It tore me apart to think that all of this heartache could have been prevented if I had vaccinated my children against influenza (they both had the pneumococcal vaccine). We had the choice and the means to get that immunization yet we hadn't done it.  Having that choice was a luxury that other don't have.
That's why I strongly believe in giving access to vaccines to as many children as possible. Last August I joined Shot@Life, the UN Foundation and 30 bloggers during Blogust to raise awareness (and money through comments made by the community). Anne and Emmanuelle are only two of the thousands of people who know the importance of vaccines and the impact they have on lives of children.
This post is my way of saying thank you, while showing how your comments counted during Blogust, and how we can help by making others aware of the difference access to vaccines can make in the lives of so many children. Because Anne and I were fortunate enough to be able to get to a hospital in time, but too many other parents aren't.
The impact of vaccines on the lives of children around the world is incredible. Now, you can help sustain the impact by sending an email to your member of congress. Welcome your members to the 113th Congress and ask them to make sure that global health and vaccines are a priority in the new Congress.  Take action and make an impact!
This story comes from The GAVI Alliance and is part of Shot@Life's '28 Days of Impact' Campaign. A follow up to Blogust to raise awareness for global vaccines and the work being done by Shot@Life and their partners to help give children around the world a shot at a healthy life. Each day in February, you can read another impactful story on global childhood vaccines. Tomorrow, don't miss Liz Thompson's post! Go to www.shotatlife.org/impact to learn more.